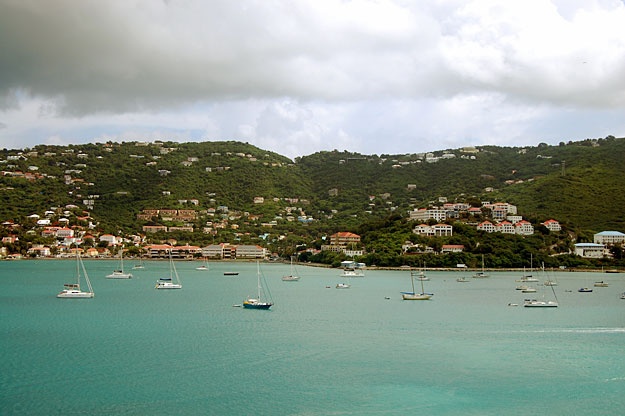 The Weather Channel called for gloomy skies in St. Thomas, so rather than booking a shore excursion my family decided to wing it. The main attraction when you get off the ship in St. Thomas is the St. Thomas Skyride, which takes you 700' up to Paradise Point -- a scenic spot that looks down on St. Thomas and the neighboring islands.
A beach day was out, but the clouds were holding up just enough that we thought we could make it up to Paradise Point, have a Bushwacker, and then get back down without any showers. This was our first time in St. Thomas and I couldn't bear the thought of just walking around the shops at Havensight -- or worse, staying on the ship!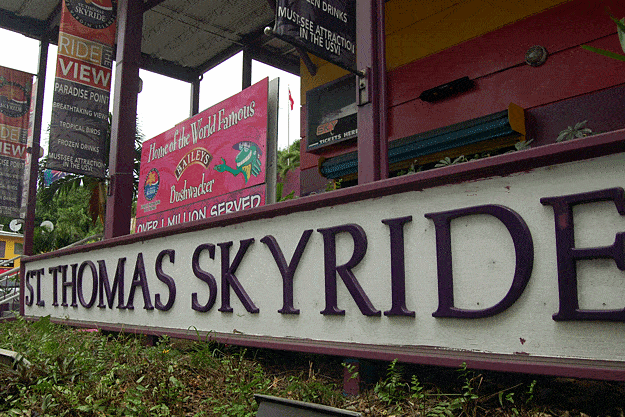 The walk to the entrance of the Skyride from the Havensight Pier (where Carnival Dream docked) was moderate, and there wasn't much of wait. If I knew we were going to do the Skyride before I got off the ship, I could have saved a couple of bucks by booking it as an excursion through Carnival. At the time of this posting, the St. Thomas Skyride costs $21 per adult and $10.50 for each child 6-12; children 5 and under are free.
For my family of 3 plus my mother, the total price was $73.50 -- and yes, credit cards are accepted.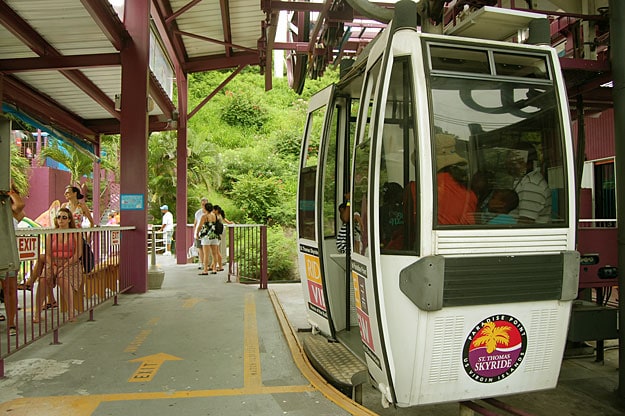 Each of the tram cars fits 8 people, with 3 cars leaving at a time. From bottom to top, it takes approximately 7 minutes to get to Paradise Point.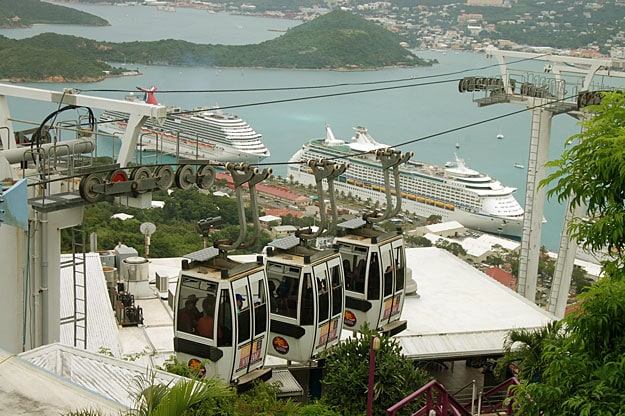 I knew going in there wasn't much to do at Paradise Point. Still, I had to see it for myself. Once at the top we wandered through a little area with animals, stopped for pictures of the cruise ships, and then went through a few shops before sitting down at the restaurant for a Bushwacker.
Because of the weather my pictures only came out so-so. I can only imagine the view on a sunny day!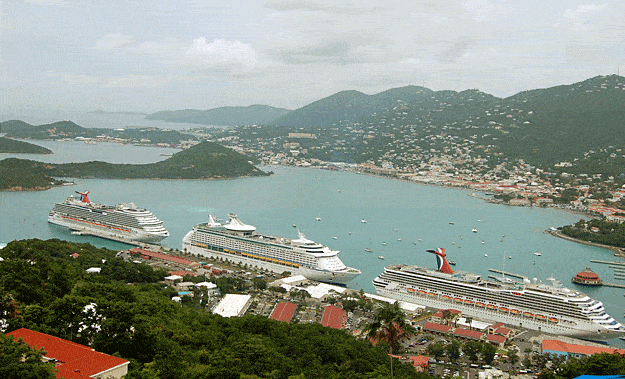 Now on to the Bushwacker ... it's an alcoholic frozen drink made with Bailey's Irish Cream. I had my first Bushwacker in Gulf Shores, Alabama, which is where I thought it had originated. Though made differently, they taste pretty much the same in both locations and the mystery remains on how St. Thomas became famous for their version-- but it sure was delicious!
There are shopping guides with coupons all over St. Thomas with a coupon for $2 off a Bushwacker at Paradise Point. I want to say it was around $5 with the discount.
That's $5 well spent in my opinion. Yum.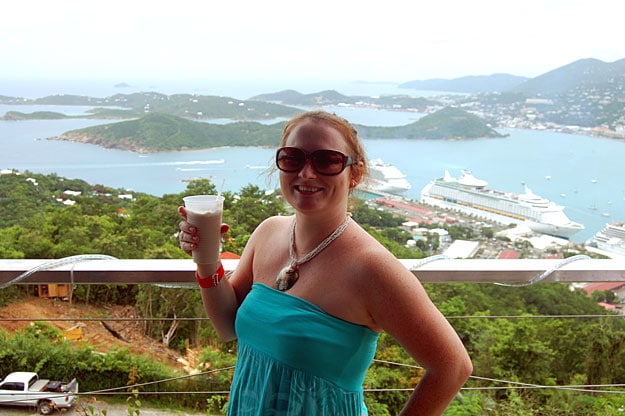 After our drink, we decided to make our way back to the ship. Once you purchase your ticket for the Skyride you can come and go as you please, as many times as you want throughout the day. I can't think of many reasons to make multiple trips in one day, but the option exists if you need it.
Overall, we enjoyed our trip up to Paradise Point, but I think it's overpriced. We spent over $80, if you include the Bushwacker, for 4 of us to travel 7 minutes up a mountain to a lookout point. It feels kind of silly to pay that much, but I think it's worth experiencing once -- the views are amazing. My daughter, who was seven at the time, was mildly impressed.
I think St. Thomas is a beautiful island and I would love to see more of it. If our next visit is by cruise ship, I think we will check out Magen's Bay or take a ferry over to St. John. A land stay is the way to go to really get a taste of what the USVI has to offer.