Some exciting news for cruisers! Carnival Cruise Lines just unveiled additional details of the $155 million makeover that will transform Carnival Destiny into Carnival Sunshine during a 49-day dry dock in Italy. The ship will re-enter service in April 2013 with all of the dining, bar and entertainment elements of the line's groundbreaking Fun Ship 2.0 product enhancement program, along with several new additions.
Here's a sneak peek at Carnival Sunshine's new features:
Carnival Sunshine Havana Bar
By day, the Havana Bar serves as a casual gathering spot for relaxing with friends and enjoying Cuban coffee and Cuban finger foods such as pastelitos and croquetas, while at night transforms into a Cuban-inspired courtyard with a cool Latin vibe where guests can listen to live music, enjoy classic Cuban cocktails, and dance the night away. Located aft within Lido Marketplace, Havana Bar's interiors pay homage to Cuba's gloried past with palm trees, elegant archways, and vibrant tile work, along with floor to ceiling windows offering panoramic ocean vistas.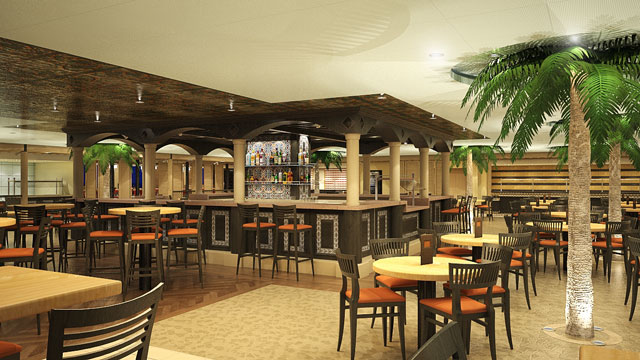 Carnival Sunshine WaterWorks
Carnival Sunshine boasts an all-new WaterWorks water park where the young – and the young at heart – can zip down five different slides and have a splash-tastic time with 40 different interactive water features, including a 300-gallon drenching bucket that will serve as the signature element of the SplashZone kids' water play area. Here, guests can race to the finish on Carnival's newest ride, Speedway Splash, with dual side-by-side 235-foot-long slides with racers' times displayed on a scoreboard and special lighting effects that add to the adventure. When they're not challenging each other to a race, fun-lovers can check out the enclosed 334-foot-long Twister slide – Carnival's longest – featuring a crystal clear turn that extends out over the edge of the ship, offering dramatic views with each twist and turn.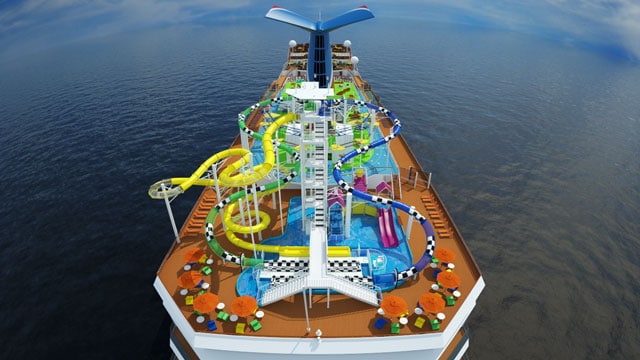 Carnival Sunshine JiJi Asian Kitchen
Yet to be named, the Carnival Sunshine will featuring a stunning full-service Asian restaurant, Jiji Asian Kitchen, with delicious favorites from the Far East, enhanced by a serene décor of prayer rolls, wood-beamed ceilings and other design elements.  The new restaurant will feature an open kitchen where guests can view highly skilled chefs artfully preparing a tantalizing menu that will offer a variety of Asian specialties, including soups, appetizers, noodle and rice dishes, as well as seafood and meat delicacies (lunch is complimentary; $12 charge for dinner). Ji Ji Asian Kitchen Menu
Carnival Sunshine Shake Spot
The ideal place to "chill", the Shake Spot is where guests can enjoy delicious hand-crafted milkshakes while taking a break from all the fun in the sun.  In addition to  a distinctive island-inspired décor, Shake Spot will offer classic milkshakes and floats, as well as tropical fruit shakes and "adult shakes and floats" made with  Grand Marnier, Cointreau and other liqueurs, all available with a variety of fun toppings. There's even an all-inclusive "Shake Lover's Package" for those who simply can't get enough of these unique and nostalgic treats on vacation.
Carnival Breeze Java Blue Cafe
Located adjacent to Shake Spot on Promenade Deck is JavaBlue Café, the place to connect, meet up and savor sweet and frothy cappuccinos, lattes, espressos and other caffeinated favorites, as well as coffees made with liqueurs, along with decadent confections such as extra-large cinnamon buns, giant cupcakes, and huge slices of red velvet cake meant to be shared within the venue's island-infused atmosphere featuring comfortable seating and breathtaking views of the sea.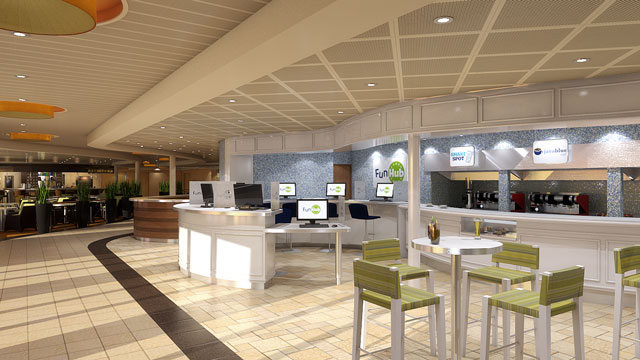 Carnival Sunshine Pizzeria del Capitano
For those guests who crave delicious, hand-tossed, artisanal-style pizza anytime of the day or night, there's Pizzeria del Capitano, an expansion of the line's popular Cucina del Capitano family-style Italian restaurant. Here, guests can watch as chefs prepare five different kinds of authentic Italian-style, thin-crusted pies, from traditional Margherita and pepperoni to artisan-style quattro formaggio, mushroom, and prosciutto – all free of charge 24 hours a day and made in a traditional pizza oven which serves as the venue's centerpiece. Whether it's a casual lunch, a late-night snack or a delicious dinner alternative, Pizzeria del Capitano will definitely hit the spot.
Carnival Sunshine will also offer all of the exciting elements that make up the line's $500 million Fun Ship 2.0 enhancement program.
These include delicious dining options like Guy's Burger Joint, developed with Food Network personality Guy Fieri, and BlueIguana Cantina, a complimentary Mexican eatery offering authentic burritos and tacos, along with innovative bar concepts such as the Caribbean-themed RedFrog Pub; the poolside RedFrog Rum Bar and BlueIguana Tequila Bar; EA SPORTS Bar, a partnership with the leading sports video game company; and the Alchemy Bar, featuring a vintage cocktail "pharmacy" theme.
Top-deck amenities will include a spectacular three-level Serenity adults-only retreat – the largest in the Carnival fleet offering a pool, waterfall, a full bar, whirlpool, and, of course, magnificent sea views – as well as SportSquare featuring a ropes course, including an exciting new zip line feature, an array of deck and table games, a basketball court, jogging track, and a two-level miniature golf course.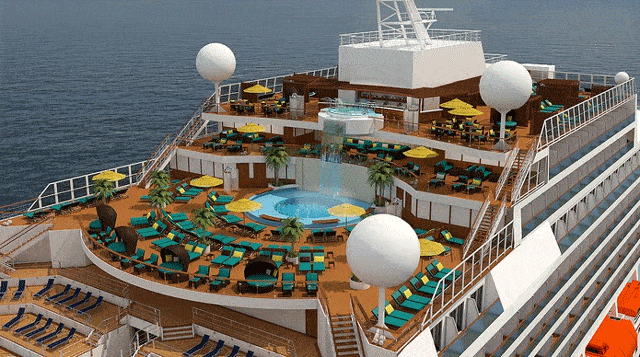 A variety of captivating entertainment choices – from the family-friendly Hasbro, The Game Show, featuring larger-than-life adaptations of the company's iconic games to high-tech Playlist Productions, which combine live performances with spectacular staging and special effects – will be offered, as well.
Following its 49-day dry dock at Italy's Fincantieri shipyard, Carnival Sunshine will debut with a series of Mediterranean cruises beginning with a 14-day voyage from Venice to Barcelona April 12-16, 2013, followed by nine- and 12-day Mediterranean cruises either round-trip from Barcelona or sailing between Barcelona and Venice through October 20, 2013.  Carnival Sunshine will then sail on a 16-day trans-Atlantic crossing from Barcelona to New Orleans Nov. 1-17, 2013, positioning the vessel for year-round seven-day Caribbean cruises from NOLA.