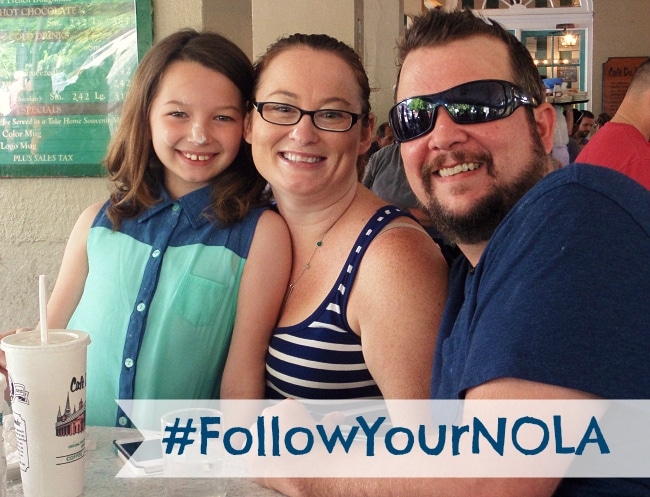 I can't believe our vacation in New Orleans is over -- it went incredibly too fast, and we would have stayed an extra week if we could have. To give you a recap, my family spent 5-nights in the Big Easy at the fabulous JW Marriott New Orleans (more on this awesome hotel later!). We tried to pack as much family fun as we could into this trip, and we definitely succeeded. My husband and I were discussing our time there on our flight home and we both agreed that it was one of the best family vacations we ever had -- I don't think either of us could get back there fast enough and we're already planning another trip!
This vacation wasn't our first family trip to NOLA. A few years ago we took our daughter, who was 5-years-old at the time, to the city of New Orleans for Mardi Gras. Everyone thought we were crazy, but we ended up having a great time without scarring her for life. In fact, she was the one who was most excited about returning -- especially since her 9th birthday coincided with our visit.
I'm going to write, in detail, what we saw, did and ate (and boy did we eat!) in NOLA through a series of day-by-day posts as well as some individual posts on things that were truly exceptional (e.g., our hotel, attractions, tours and restaurants).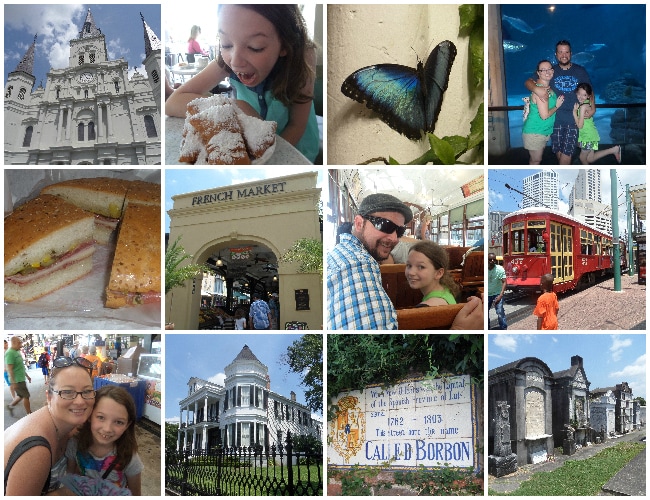 Since I didn't post a final itinerary before we left, here's a peek at what we actually did with our time in New Orleans:
Day 1 - Arrived in New Orleans (MSY) via Southwest airlines-- love their nonstop flight from Tampa! Cabbed it to the JW Marriott New Orleans and checked into our rooms (Yes - Plural!). Ate lunch at Johnny's Po-Boys and dinner at Acme Oyster House.
Day 2 - Celebrated my daughter's birthday with breakfast at Cafe du Monde, followed by shopping at the French Market. Later we visited the Audubon Insectarium where we ate bugs (for real!). Had lunch at Mother's and boiled crawfish for dinner at Deanie's French Quarter.
Day 3 - Had a full day with a visit to both the Aquarium of Americas and the Audubon Zoo. We took the 11 bus to and from the zoo, with a stop on the way back for lunch at Dat Dog and dessert at Sucre on Magazine Street. We ate a late dinner at the The Camellia Grill.
Day 4 - Spent the morning wandering the streets in the French Quarter followed by additional shopping at the French Market. Picked up a whole muffaletta at Central Grocery to eat back at the hotel before we crashed. This was our rest day. In the evening we took a ghost tour with Haunted History Tours with stops for drinks at Pat O'Brien's (for what else -- a hurricane!) and Lafitte's Blacksmith Shop, the oldest bar in America. Dinner was at Chef John Besh's Domenica.
Day 5 - For our last full day we had a late breakfast at Cafe du Monde before taking the St. Charles streetcar to the Garden District for a tour of Lafayette Cemetery No.1 and the surrounding mansions. Dinner was at Chef John Besh's Lüke.
Day 6 - Left the hotel bright and early for our flight home via Southwest 🙁
As you can see, we had a full schedule! Sadly, we didn't get to see and do everything on our original list, but I think that just warrants a return trip. New Orleans is really an amazing city with a wealth of activities for families and I can't wait to share our experience with you -- maybe it will inspire you to #FollowYourNOLA!