One of the things that surprised me the most about the Disney Dream was how much entertainment there was for adults.  I always felt Disney Cruise Line was for kids, and while it totally is, the Disney Dream does a stellar job of separating adult and youth spaces. So much so, you could sail kid-free and never feel as if you were bombarded by characters or children.
The District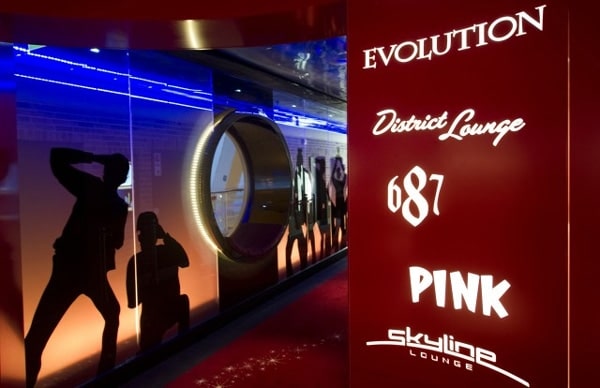 If you are traveling with children, as I'm assuming most are, the Disney Dream has a fabulous kids club that is open until midnight on most nights. My husband and I used this time to our advantage and went out every evening after dinner to The District, which is now my favorite group of bars and lounges on any cruise line at sea.
The District is made up of five distinct bars: Skyline, Evolution, 687, District lounge and Pink. It's a unique space that flows so well, it makes you forget you are on a cruise ship. I started each night at Pink with one of their signature champagne cocktails. In between sips, my husband would jet over to 687 (Sports Bar) to check the score of the game, and by the time I was finished, he would be back and we'd head on over to Skyline.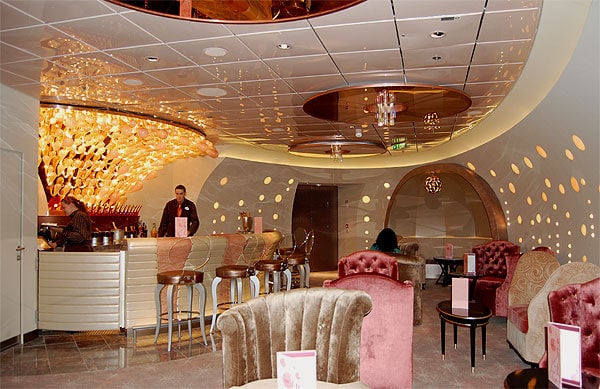 Skyline is a sleek and sophisticated martini bar with a rotating "window" that changes from Paris, Rio de Janeiro, New York, Chicago, and Hong Kong. There's also a signature drink menu with cocktails from each city! My favorite was Zen-Chanted from Hong Kong.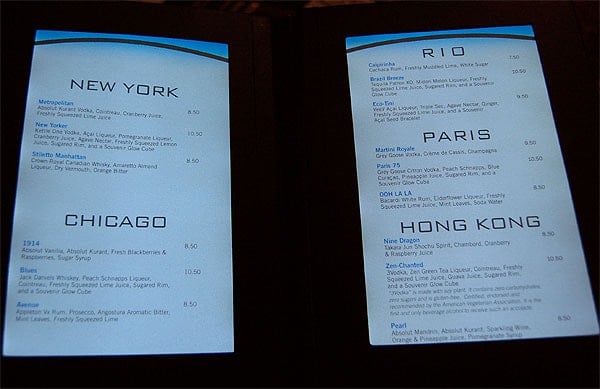 Finally, we always ended up at the nightclub, Evolution, before picking up our daughter from Oceaneer Club--which is conveniently located just 1 deck above The District 😉
Somewhere in this picture is my husband...can you spot him?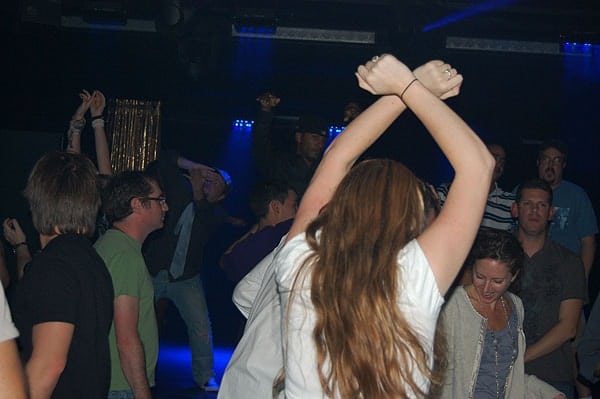 My husband and I spend most all of our adult time at The District-- I guess that says we like to socialize and drink? But, there was plenty more to do if we had extra time, which unfortunately we didn't since we were on a media preview cruise.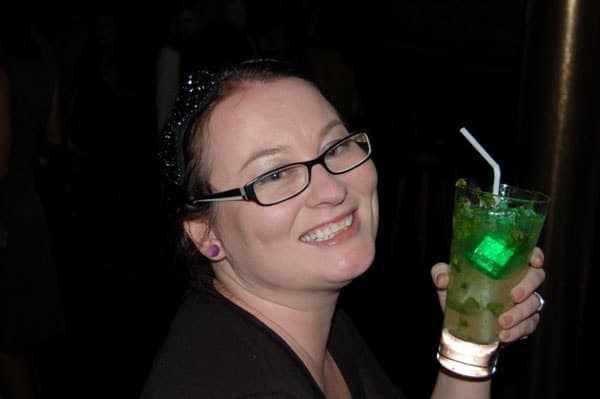 For all you lucky ducks planning one of the Dream's 7-night voyages, here's what you can look forward to:
 Adult-Only Dining
There are two adult-exclusive restaurants on board the Disney Dream-- Palo & Remy.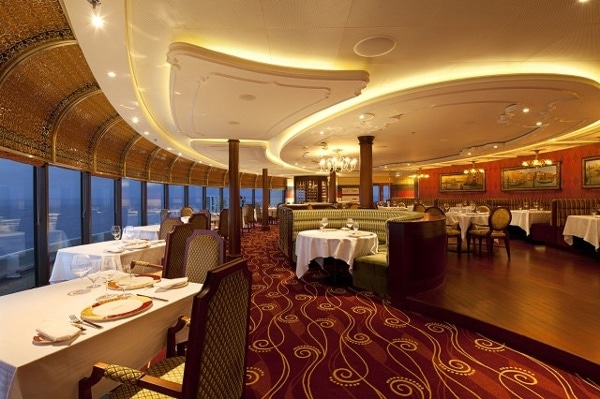 Palo, named after the signature long poles used by gondoliers in Venice, features Northern Italian cuisine with sweeping ocean views-- it's the perfect setting for a romantic dinner for two!
An additional charge of $20 per person is required to dine at Palo for Brunch or Dinner.
Dining at Remy is like being transported to an authentic fine-dining restaurant in France. The luxurious dining room is softly lit and designed in a timeless Art Nouveau style featuring soft greens, rich reds, and gold tones. Remy's gourmet menu was created by Chef Arnaud Lallement from l'Assiette Champenoise—a Michelin 2-star restaurant just outside Reims, France—and Chef Scott Hunnel from award-winning Victoria & Albert's at Walt Disney World Resort.
An additional charge of $75 per person is required to dine at Remy.
Quiet Cove Pool
One of 3 freshwater pools on the Disney Dream, Quiet Cove Pool is located at Deck 11, Forward and is reserved exclusively for guests 18 years of age and older. Conveniently attached to the pool is the Cove Bar, an elegant "watering hole" for cocktails and other beverages.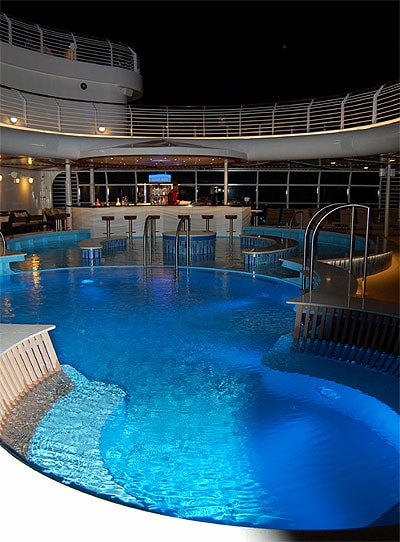 Senses Spa & Salon
The exquisite Senses Spa & Salon provides therapeutic and beautifying personal care services for men and women in an impressive haven, spanning 2 decks, on the Disney Dream. The ultimate in peaceful retreats, this immaculate setting offers spa treatments, massages, body wraps, facials, aromatherapy and much more. Salon services include manicures, pedicures, hairstyling and blowouts, plus teeth whitening at the Smile Spa, and a barber shop for traditional men's grooming services. For an inexpensive treat, purchase a day pass for the Rainforest room -- check out my review of the Rainforest on Disney Fantasy.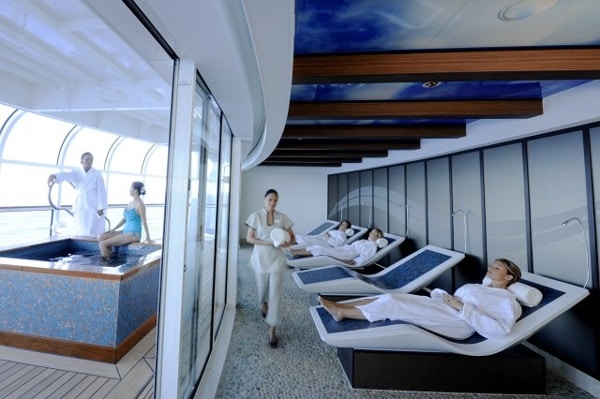 Special thanks to Disney Cruise Line for hosting my family on the Disney Dream Christening Cruise. All opinions are my own.