The Carnival Breeze does an excellent job of being equally appealing to both children and adults. I've hinted at some of the great spaces on board for adults, including the Red Frog Pub, Bonsai Sushi, the Cloud 9 Spa and The Library Bar – but this post is all about the kids!
I commissioned my daughter to share with me what she loved most about the Carnival Breeze and here's the short-list of her favorite things – with a few thoughts (and tips!) by me:
Carnival Breeze for Kids
Thrill Theater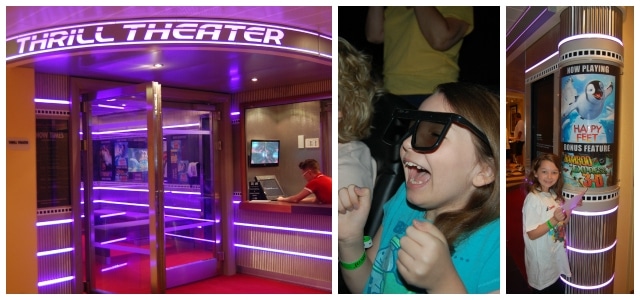 The 4-D Thrill Theater was the surprise favorite for both of us. Going in, I had an idea of what the attraction was like based on similar concepts at theme parks, but Carnival's extended version was so much better. Instead of full length movies, there are eight different short films, from 10-20 minutes each, with special 3- and 4-D effects. It's very cool and something totally different for Carnival. I think the price for one showing is a little steep at $7.95, but the unlimited pass, which is good for the entire cruise, is quite a deal at $14.95. I wish we had purchased this pass at the beginning because my daughter wanted to go again and again.
Carnival WaterWorks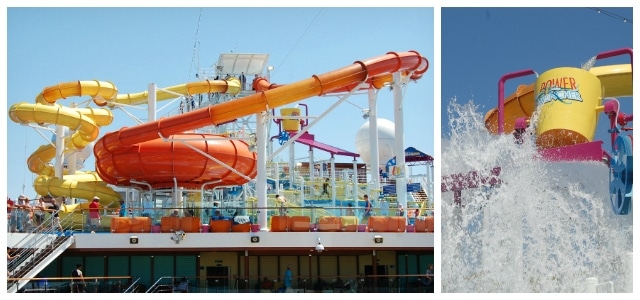 There's something about a 300-gallon water dump bucket that makes kids go crazy! WaterWorks on the Carnival Breeze has all of the favorites, including the Twister and Drain Pipe water slides, multiple fountains & sprays, dual racing kiddie slides, and the above mentioned dump bucket – the PowerDrencher. She could have spent hours at the waterpark, but to beat the crowds, we stuck to visiting the morning of long port days when we pretty much had WaterWorks to ourselves.
Seaday Brunch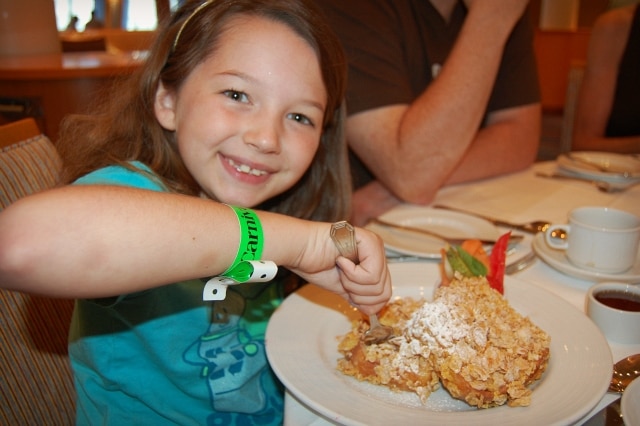 Where else can a kid have Frosted Flakes French Toast, Churros with chocolate dipping sauce, and Mac 'n Cheese with bacon for breakfast ... or I should say, Brunch?! The Seaday Brunch was a winner with the new menu offerings that cater to both kids and their parents. Everything we had was fantastic and we looked forward to sea days, when brunch is served.
Camp Ocean
I'm always surprised at just how much my daughter loves Camp Ocean (formerly Camp Carnival) – even on long port days she begged me to stay every night after dinner. Camp Ocean gives her time to mingle with children her own age in a supervised environment that I feel secure leaving her in. I asked her what her favorite camp activities were and she said, "Spin art, dance party, t-shirt making, and Grandma's underpants" – yeah, I'm not sure what that is either!
Camp Ocean is complimentary for children ages 2-11 until 10pm daily (with a few closures between lunch and dinner), and then after-hours Night Owls kicks in for $6.75/hour. The Carnival Breeze also offers its popular programs for young teens and teens with Circle "C" and Club O2, catering to 12-14-year olds and 15-17 year olds— their schedule is more liberal as they can come and go as they please.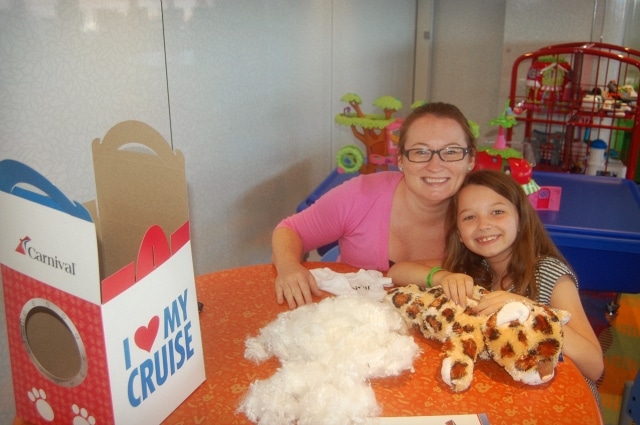 We also enjoyed Beary Cuddly Workshop, which Camp Carnival offers a few times during the cruise when camp isn't in session. To participate, children must be accompanied by an adult and as there is a fee to stuff an animal. My daughter had her heart set on a leopard, which we worked on together one afternoon. It's nice to have activities that both parents and children can do together.
Hasbro: The Game Show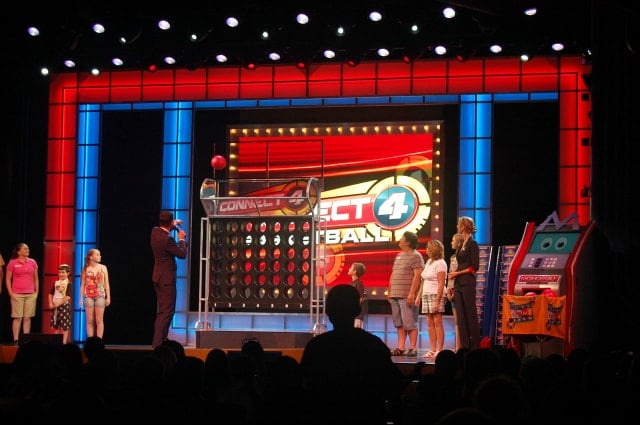 Another winner for the Carnival Breeze is Hasbr0: The Game Show. Families packed themselves into the Ovation Theater to have the chance to participate in larger-than-life Hasbro games on stage. We didn't get to participate, to my daughter's disappointment, but we still had a blast watching the games, which included Connect 4 Basketball, Simon Flash and Trivial Pursuit. So much fun, and not to be missed!
Carnival SportSquare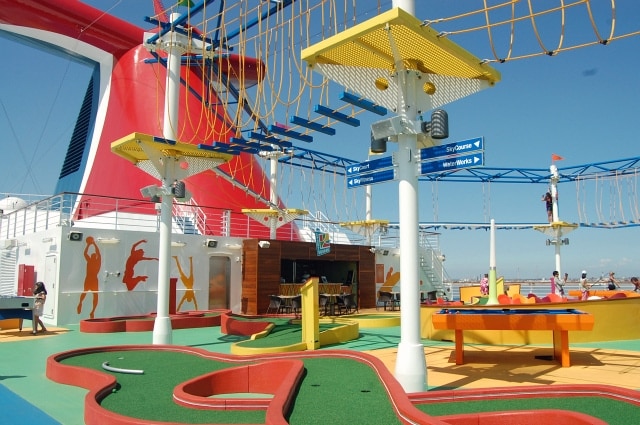 We were so busy that we didn't have the chance to try out the SkyCourse, but my daughter still mentioned the SportSquare as one of her favorite kid-friendly spots on-board. The area is bright and lively, with colorful seating , a miniature golf course and multiple game tables. Here are a few more photos:
Overall, the Carnival Breeze has more family-friendly features than any other Carnival ship. I would find it hard for any child to be bored— we tried to see and do as much as we could during our cruise and I'm positive we didn't check everything off the list. We had a fabulous time and I cannot recommend this ship enough to families looking to book a cruise to the Caribbean.
Carnival Breeze is currently sailing from Miami to the Caribbean, however it will reposition to Galveston in May 2016.
--> Check out all my posts on the Carnival Breeze
I was invited as media on the Carnival Breeze. All opinions are my own.