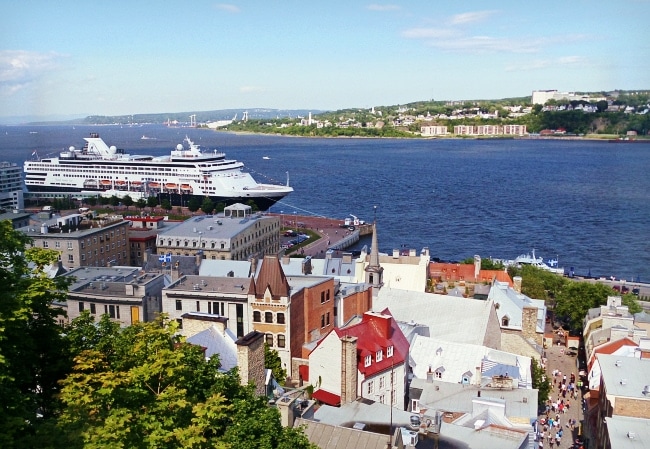 My 9-year-old daughter and I just returned from a 7-day Holland America Canada and New England Discovery Cruise on the ms Veendam. The itinerary was unique because it started with an overnight in Quebec City (that's when you stay on the ship overnight without leaving port) and then sailed down the Saint Lawrence River to the ports of Charlottetown, Sydney, Halifax, and Bar Harbor, with debarkation in Boston. And as a bonus, our sailing was one of six Dancing with the Stars: At Sea theme cruises, which turned out to be very cool.
This was our first time sailing with Holland America and it definitely made a impression— we had a fantastic time, both on the Veendam and in each port of call. I would absolutely do the Canada/New England itinerary again in the future, and not just for the seafood ... which, by the way, was AMAZING!

I will be sharing a day by day account of our trip as well as some extended features, including our excursions, a review of the Veendam and my thoughts on why Holland America is great for families.
Until then, here's a quick rundown of what we did in each port.
Quebec City, Quebec (overnight) – Day on our own: Poutine at Chez Ashton, Musée de la civilisation, dressed up in 17th century period costumes at Musée de la place Royale, rode the Funicular up to the Chateau Frontenac.
Charlottetown, Prince Edward Island – Day on our own: Raspberry Cordials at Anne of Green Gables Chocolates, walked to Brighton Beach Range Front Lighthouse, Ice Cream at Cows (the best in the world!),  lunch at Water Prince Corner Shop (PEI mussels!)
Sydney, Nova Scotia  – Checked out the World's Largest Violin, Relive History at the Fortress of Louisbourg (HAL excursion).
Halifax, Nova Scotia – Peggy's Cove & Titanic Combination (HAL excursion), Lunch at Waterfront Warehouse (Lobster Roll!).
Bar Harbor, Maine – Day on our own: Island Explorer to Acadia National Park, Lunch at West Street Cafe (Whole Maine Lobster!).
Boston, Massachusetts – Scenic Boston with Airport Transfer (HAL excursion).