Whether you're taking your first cruise or your tenth on Carnival Cruise Lines, there's never a lack of things to do. I have found that my family gets into a bit of a routine when we're cruising, which leads us to many of the same activities and dining experiences from one vacation to the next. It's obvious that we like what we like, but I figured it would be interesting to find out some of the lesser-known, or easily passed by "hidden gems" while onboard Carnival Freedom earlier this year. Here are a few of my favorites.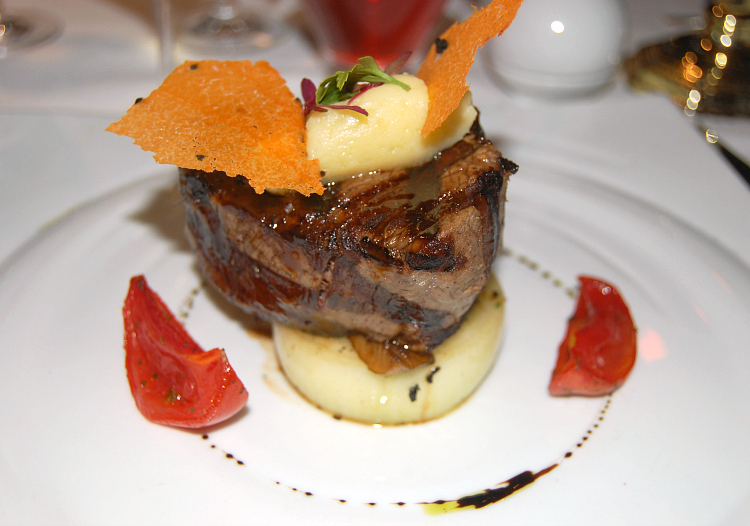 Free bottle of wine on the first night in the steakhouse — My husband and I ALWAYS dine at the Steakhouse at least one night on a Carnival cruise. This is a tradition that we have no intention of giving up's hands-down the best meal of the entire vacation! But did you know that if you book the Steakhouse for the very first night of your cruise, you receive a complimentary bottle of wine?
This little fact completely escaped me until I noticed a sign for it while boarding. I did a little digging, and this little gem of an offer is available on all of Carnival's ships!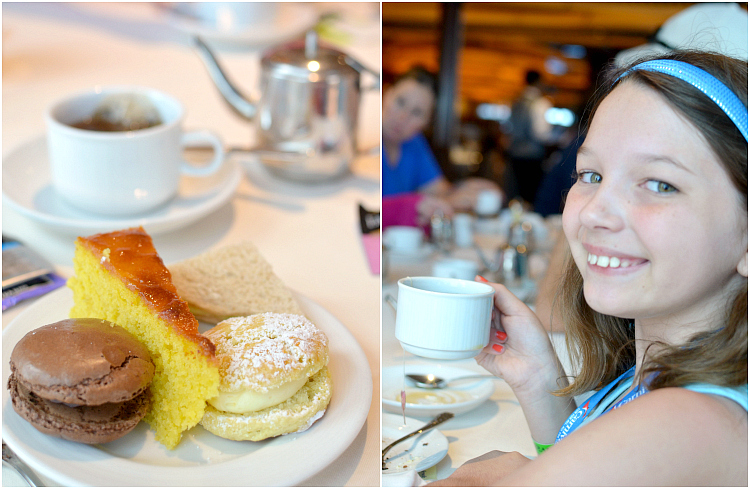 Tea on sea day — Another feature that is not exclusive to Carnival Freedom, but often goes unnoticed is tea on sea days. This complimentary tea service takes place at 3:00 pm in the dining room and includes a choice of hot tea, small sandwiches, scones and other desserts.
My daughter and I like to enjoy this hour together at least once per cruise. Sometimes we have such a busy schedule that I completely forget about it until the last minute, but, thankfully, reservations aren't required, and it's perfectly acceptable to walk in a few minutes late.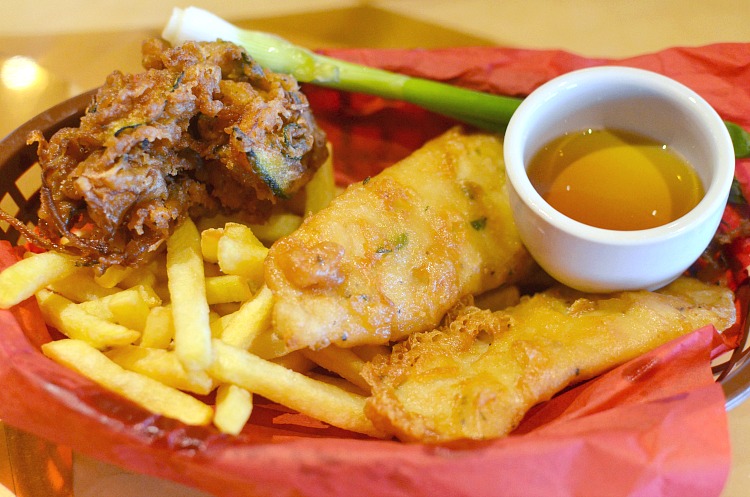 Fish N' Chips — If you're not looking for it, you can easily miss the Fish N' Chips kiosk on Carnival Freedom. Or, at least I did until the second-half of our cruise--now I won't forget it!
The station is located on Deck 10 and is accessible by a staircase (or an elevator) near the buffet on the Lido deck. Besides serving the obvious, fresh seafood salad, ceviche and vegetable fritters are available during lunch hours. This area is usually very quiet because it seems not many people know about it (I secretly want to keep it that way!).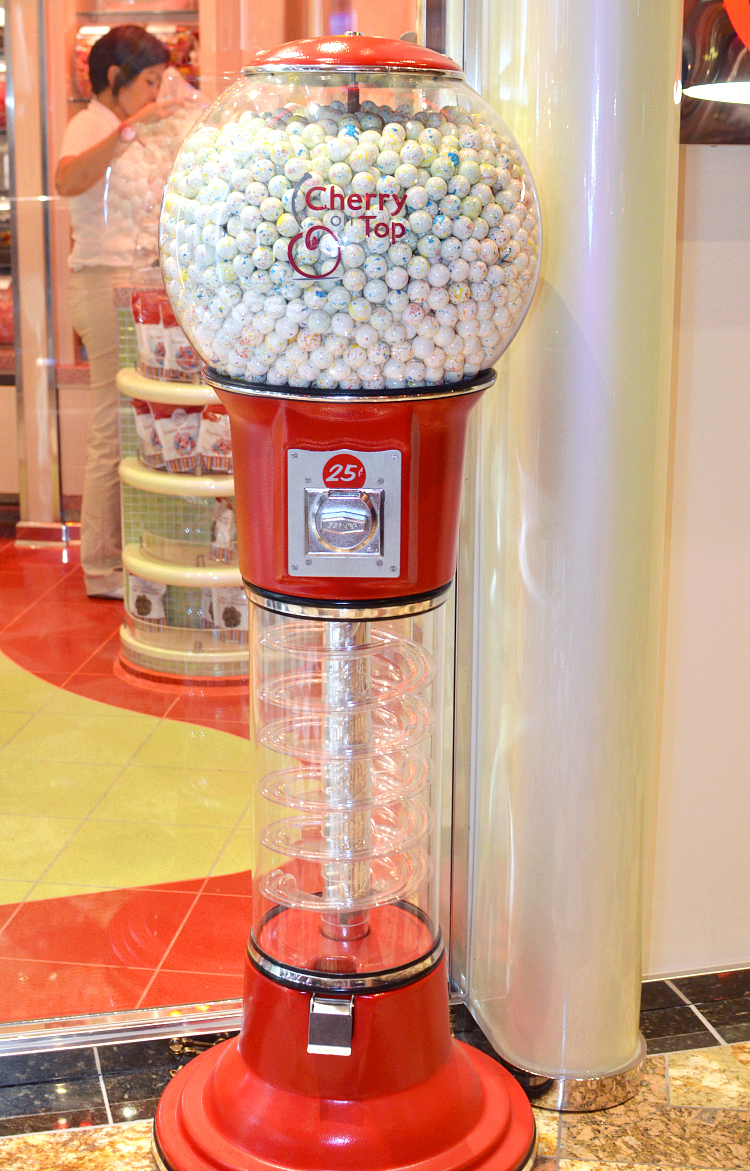 25-cent Jawbreakers at Cherry on Top — If you have a kid, Cherry on Top will be a must-stop on your Carnival Fun Ship 2.0 cruise. Even I am lured in by the beautiful colors and lights!
Cherry on Top offers a wide assortment of candy and other gifts that make great souvenirs for friends and family back home (we're particularly fond of the Sour Gummy Funnels!). This is also where you order wine packages, cakes, and flowers for special occasions on board.
My daughter discovered that right outside Cherry on Top is a giant gumball machine with 25-cent jawbreakers! Now she brings along a few extra quarters on each cruise to use in the machine. The shop is kind enough to give her a little baggy to store them in, so she doesn't have to indulge right away. I've found that this is an inexpensive way to satisfy her desire to spend money at the shop--though somehow we still bring an extra goodie or two home with us!
Breakfast Burritos at BlueIguana Cantina — If you're a late sleeper, or a fan of breakfast room service, like me, you could completelty miss the breakfast burritos at BlueIguana Cantina. But, I promise you, they are worth leaving the stateroom for!
Similar to the lunchtime "design your own burrito" set-up, you can choose all of your favorite breakfast fillings, including eggs, bacon, sausage, and potatoes, and have them stuffed in a made-to-order, fresh burrito. The cool part is you can have these wrapped up, to-go style, to eat anywhere on the ship— whether that's your stateroom balcony, a quiet area with an ocean view or poolside.
Vegetarian Indian entree — My number #1 favorite "not so hidden gem" is the vegetarian Indian meal in the dining room, which just so happens to be available every night on every Carnival cruise ship. I'm not a vegetarian, so my eyes typically don't wander to that section of the menu, but I once got a hot tip to try this entree, and I haven't looked back since.
If you already enjoy Indian food, this selection is a no-brainer. I also think this option an ideal choice for those who enjoy trying new foods on vacation. And because Carnival has such a diverse kitchen staff, there's an excellent chance that an Indian chef prepared it for you. I know I've never been disappointed with this selection!
Do you have a "hidden gem" or lesser known activity or dining experience that you enjoy while cruising?
Other Carnival Freedom Posts You Might Like:
Other Cruise Posts You Might Like:
DISCLAIMER: This post was created as part of my collaboration with Carnival Cruise Lines. As always, all of the opinions, thoughts, and ideas in this post are my own.