Take your Halloween party up a notch with these scary good Halloween Cocktails!
We get that Halloween is usually all about the kids, but there's no reason that the adults can't have a little fun, too -- That's why we came up with a list of 20+ creepy Halloween Cocktails to serve to your Halloween party guests on October 31!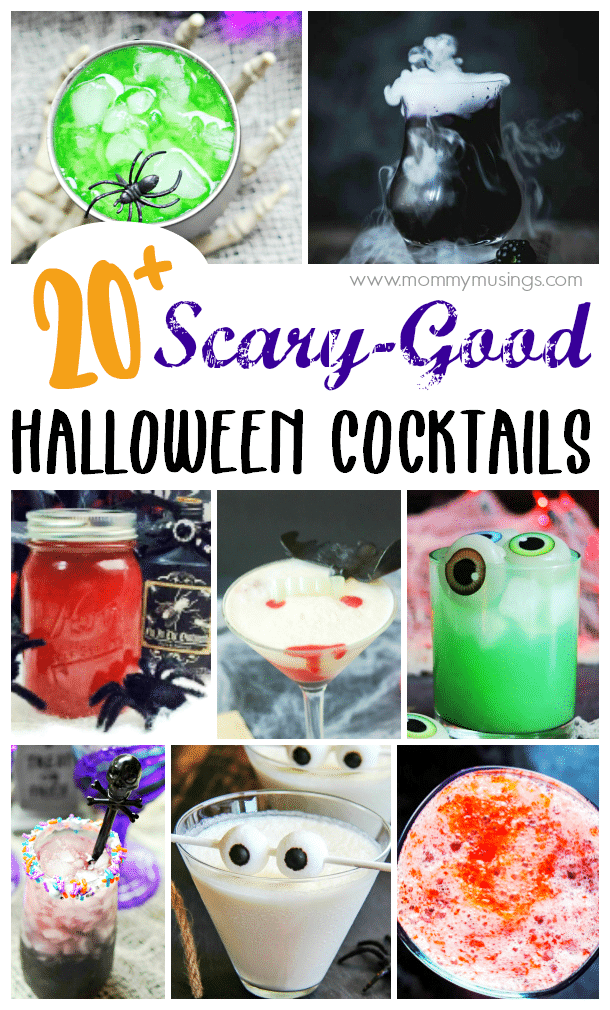 Halloween Cocktails
Phantom Potion - Snacks and Sips
Phantom Potion is party perfect! Simple to make, it looks eerie and tastes great -- made with Vodka, Triple-Sec and Lime Kool-Aid.
Ghostbusters Slimer Vodka Cocktails - DIY Candy
Ectoplasm has never been this delicious! These Ghostbusters Slimer themed vodka cocktails are so fun – and tasty too. 
Vampires Kiss Halloween Cocktail - Atta Girl Says
These Halloween cocktails might look sinister, but they taste delicious. A blood-red strawberry puree pierces a creamy white homemade pina colada base, in this spooky take on the popular Hawaiian Lava Flow cocktail.
Green Witches Brew Halloween Cocktail - Creative Ramblings
If you are hosting a Halloween party this is a great drink to make in a batch and serve a crowd — made with vodka, blue curacao and pineapple juice.
Black Magic Cocktail - Champagne and Coconuts
The dark purple grape juice combines with the vanilla goodness of Sweet Retreat Schnapps for a taste that is smoldering with fruity goodness.
The Grave Digger Cocktail - Boulder Locavore
A refreshing, fizzy fall cocktail perfect for Halloween celebrating. 
Zombie Brain Shot - Homemade Hooplah
This totally creepy and absolutely cool zombie brain shot is the ultimate Halloween drink. And it's as fun to make as it is to shoot - if you dare!
Black Heart Daiquiri - Crowded Kitchen
This bewitching cocktail is made extra spooky with the addition of activated charcoal powder! 
A-Ghost-Tini - Tony Staab
The Ghost-Tini combines vodka, RumChata, heavy whipping cream and white chocolate truffles for a dose of spooky fun.
Bood Bag Cocktail - Sugar and Soul
Made with two ingredients, inside a blood bag, this drink is an easy and deliciously spooky libation.
Blood and Guts Cocktail - Sugar and Soul
This hard twist on a Shirley Temple is also loaded up with grape and raspberry jello to give it that blood and guts look. 
Purple People Eater - Super Golden Bakes
Prepare to be spooked by the Purple People Eater color changing Halloween cocktail!
Vanishing Candy Corn Cocktail - The Baking Fairy
Vanishing Candy Corn Cocktails just require candy corn, Cointreau, Prosecco, and the secret ingredient, cotton candy!
Toxic Spawn Martini - Mom Foodie
Kinky Green liqueur mixed with vodka gives this martini a glowy green hue and features "spawn" made from soaked chia seeds.
Black Widow Venom Moonshine - Crayons and Cravings
The flavor combination of cinnamon and strawberries may not be one that you have considered, but you won't believe how it works together in this Halloween moonshine.
Demon Juice Halloween Cocktail - Crayons and Cravings
This citrus and sour apple Demon Juice Halloween Cocktail has a powerful punch that will pucker your lips and leave you begging for more.
The Crypt Keeper Halloween Cocktail - Who Needs a Cape
The Crypt Keeper Cocktail is easy to make, delicious and great for your spooky party -- features vodka, blue curacao and cranberry juice.
Witches Blood Halloween Cocktail - Sprinkles and Sprouts
An easy to make cocktail that mixes vodka, whiskey and lemon together to create a twist on a whiskey sour recipe, but with the added sweetness of cherry.
Black as Your Soul Halloween Cocktail - Simply Made Recipes
This fun Halloween Cocktail is made with lemonade, Bacardi Gold and a pinch of activated charcoal for a spooky-good party drink served in a coupe cocktail glass.
Bats Brew - Eat Drink Love
Made with rum and other liqueurs, this dark purple color makes for the best spooky cocktail!
Black Magic Mules - Bits and Bites Blog
Vodka, blackberries, mint, ginger beer and lime make the perfect Halloween Moscow Mule.
HALLOWEEN RECIPES:
MORE HALLOWEEN IDEAS: