Adorable Turkey OREO Cookie Balls for Thanksgiving - This no-bake chocolate truffle recipe is easy to make and customize for any holiday or occasion.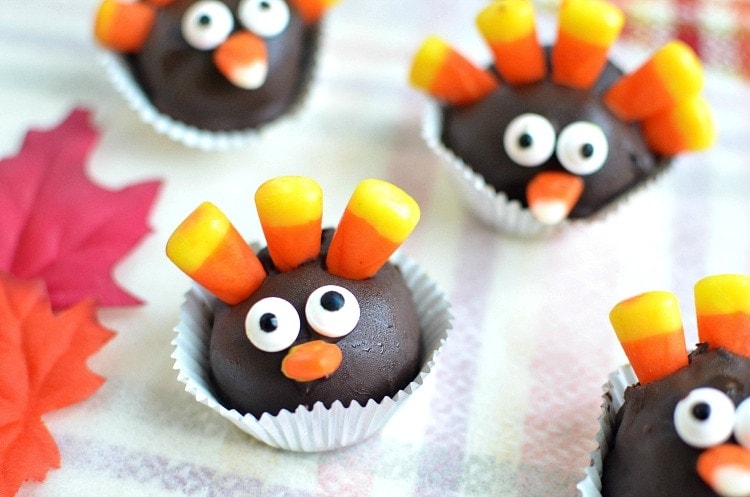 You know, I feel like Thanksgiving doesn't get enough love when it comes to cute & creative recipes and desserts. Now that Halloween is over, I've fast-forwarded all of my energy into the holidays with grand ideas for Christmas goodies and treats that are sure to "WOW" my friends and family.
But then there's Thanksgiving— sure, we usually have pumpkin pie, but it doesn't get more exciting that except for a little bit of whipped cream and maybe a side of ice cream. Thanksgiving has become so vanilla. At least in our home.
This year I decided to change that when I came across a recipe for OREO Cookie Balls. First, let that sink in for a second— OREO. Cookie. Balls. How I'm just finding out about this recipe me is beyond me. Apparently, it's been circulating for YEARS!
As I've recently learned, OREO Cookie Balls are the most delicious thing you can put in your mouth. Imagine a decadent chocolate truffle made from OREO cookies. Because you roll these little delights into balls, the opportunities for decorating are virtually endless. I choose to make my first batch of OREO Cookie Balls into cute little turkeys in honor of Thanksgiving. I bought all of the ingredients at my local Walmart with the cookies near the dairy aisle — and the best part? THERE ARE ONLY 3 INGREDIENTS!
I know you're just dying for the recipe— This is the basic recipe for OREO Cookie Balls before decorating. See below for how to decorate Turkey OREO Cookie Balls.
How to Make OREO Cookie Balls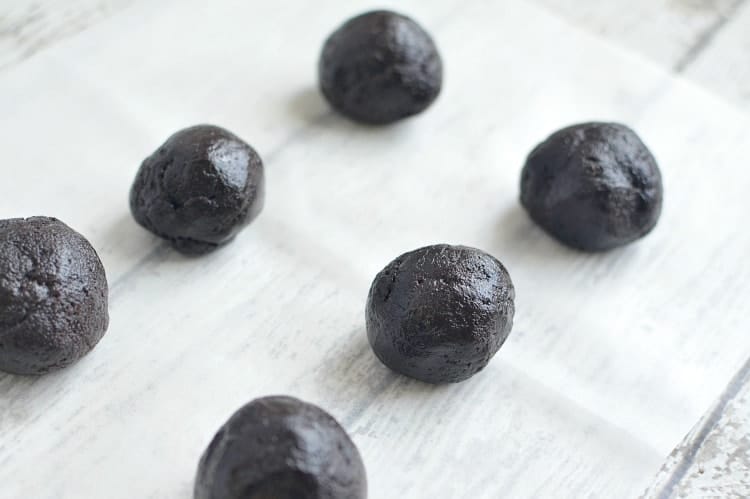 OREO Cookie Balls Recipe
Easy recipe to make OREO Cookie Balls.
Ingredients
36

OREO Cookies

finely crushed (about 3 cups)

8

oz

brick cream cheese

softened

4

oz

semi-sweet baking chocolate

melted
Instructions
MIX cream cheese and cookie crumbs until blended.

SHAPE into 48 (1-inch) balls. Freeze 10 min. Dip balls in melted chocolate; place in single layer in shallow waxed paper-lined pan.

CUSTOMIZE it with your own ingredient additions or decorative skills (see below for directions on how to create Thanksgiving turkey OREO cookie balls!)

REFRIGERATE 1 hour or until firm.

Share and enjoy!
 Tip: You can use ANY flavor OREO cookie!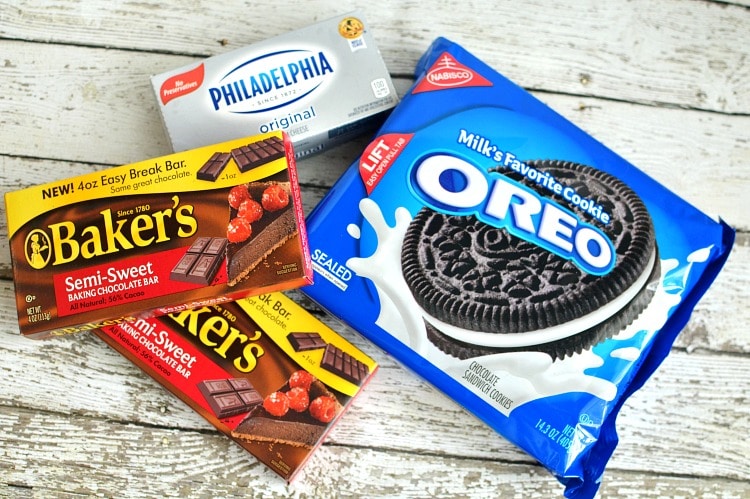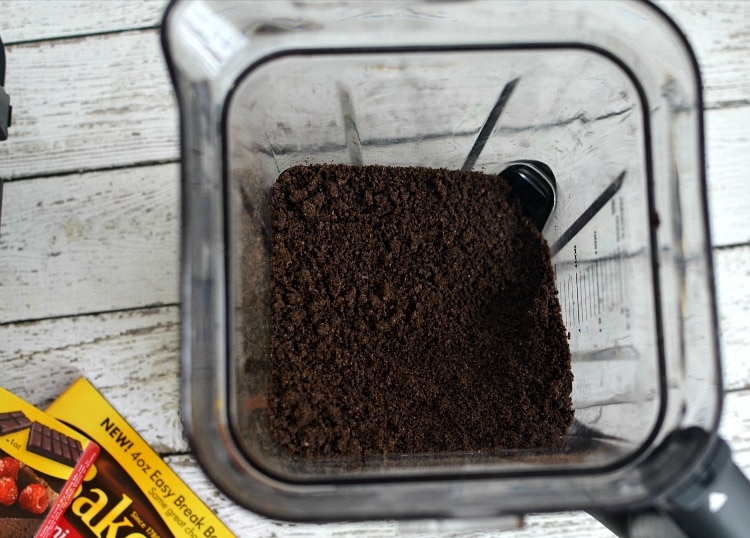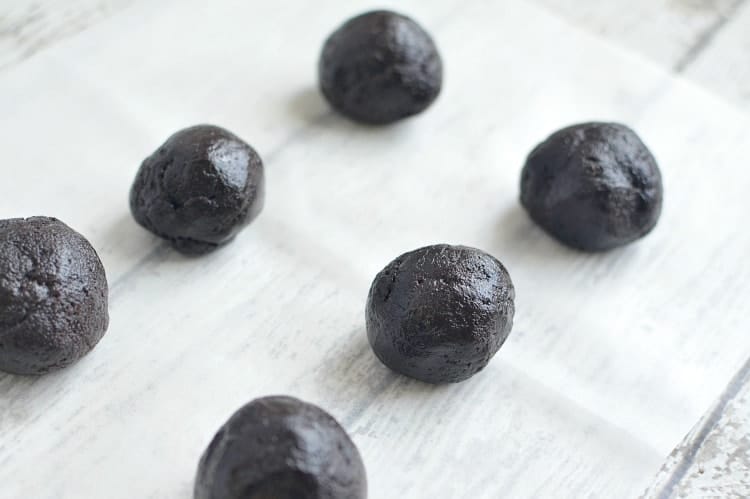 Thanksgiving Turkey OREO Cookie Balls
To make your OREO Cookie Balls into Thanksgiving Turkey OREO Cookie Balls, you'll just need a few additional ingredients for decoration.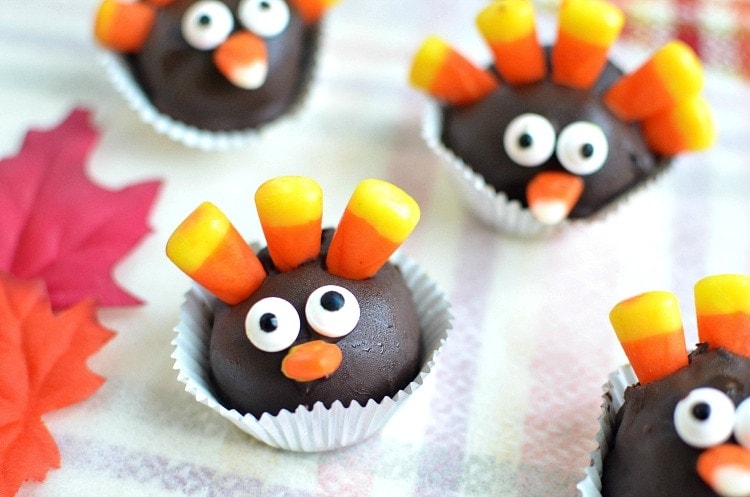 Thanksgiving Turkey OREO Cookie Balls Recipe
Ingredients
Candy eyes

2 for each turkey

Candy corn

4-6 candies for each turkey, depending on if you like the 3 or 5 feather look + 1 for beak

Mini baking cups

one for each OREO cookie ball
Instructions
Once OREO Cookie Balls are prepared & cooled according to the recipe above, place 1 OREO Cookie Ball into each of the mini baking cups. I like using these cups because they are easier to handle and serve.

Place 3-5 pieces of candy corn into each OREO Cookie Ball to resemble turkey feathers. These candies should stick inside and stay without a problem.

Using a little melted chocolate from OREO Cookie Ball recipe, "glue" on two candy eyes.

To make each turkey's beak, cut a piece of candy corn in half. Use melted chocolate to keep it in place under. Chill until ready to serve
Want to make Turkey OREO Cookie Balls? You might find these useful:
Oreo Chocolate Sandwich Cookies (19.1-Ounce Family Size Package)
Wilton Candy Eyeballs,0.88 Ounce,Count of 50
Festival Candy Eyes Treat Toppers, 2.9 Ounce
Brach's Candy Corn 11 oz bag
Baker's Semi-Sweet Baking Chocolate Squares, 4 oz
Wilton Baking Cups, Mini, White, 350-Count
AmazonBasics Silicone Baking Mat - 2 Pack
Reynolds Kitchens Cookie Baking Sheets Parchment Paper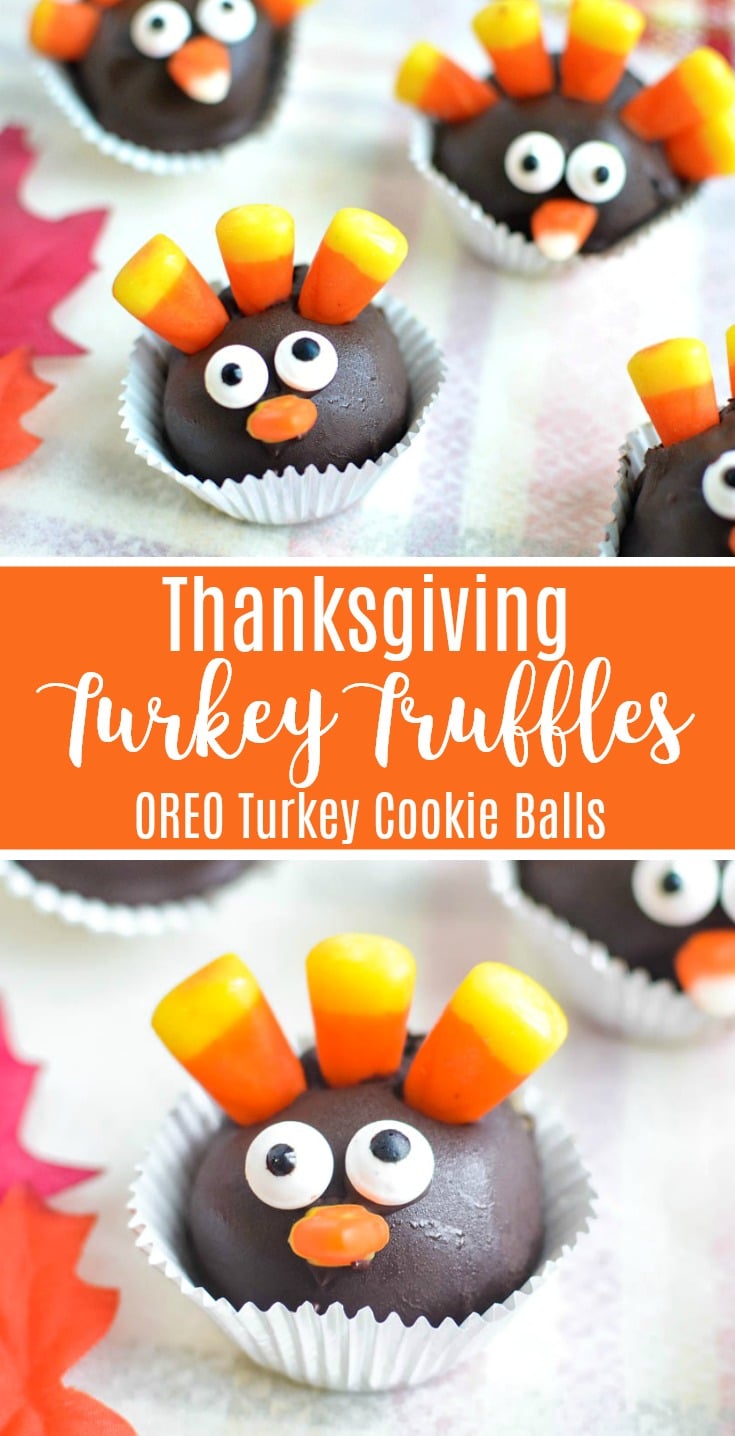 More Turkey Ideas for Thanksgiving
Fall Recipes You Might Like:
This post is brought to you by #CollectiveBias on behalf of #OREOCookieBalls. All opinions are my own.